Endeavors Unlimited provides housing, life skills training, and supportive employment opportunities for adults with disabilities. Helping those in the program achieve a stable, successful, and self-sufficient lifestyle, Endeavors Unlimited is uniquely capable of providing both commercial services for business and government entities and supportive training and employment opportunities for individuals with disabilities.
It is Endeavors Unlimited's mission is to improve the quality of life for adults with disabilities by providing competitive, accommodated employment and job supportive services to help them sustain employment.
Founded in the 1980's, Endeavors Unlimited is a private, nonprofit organization dedicated to employing and providing job supportive services to individuals with disabilities. With a goal of creating sustainable employment for those we employ, we partner with commercial and governmental agencies, both of whom rely on Endeavors Unlimited to provide them with quality, consistent, and professional services so they can focus on their business goals.
Texas ranks #2 in the nation for the largest population of persons with disabilities, yet, it is among the nation's worst states when it comes to supporting this population.
We aim to change that.
Endeavors Unlimited Provides the Following Employment Supportive Services for Adults with Disabilities
Employment Datasheet and
Application Training
Resume Writing
Interview Training
Job Skills Training
Job Searching
Job Placement
WRAP – Wellness Recovery
Action Plan Training
Preparing for the 1st day on the job
HEAR JAVIER'S
SUCCESS STORY.
Jobless and struggling to make ends meet, Javier was desperate for help. With the help of Endeavors Unlimited, he found employment in custodial services, warehouse, and landscaping.
Javier now enjoys what he does and the people he works with, keeping him busy and active while building his self-esteem and confidence.
OUR TEAM
Elique Guerra, Program Director of Endeavors Unlimited
Elique, has over 10 years of operations, management, and organizational leadership experience in various roles. He has served his community as a Firefighter/EMT for 11 years. More recently, he was responsible for ongoing operations at the largest industrial laundry facility in the Southern US with a P&L of $9 million. He possesses a Bachelor's degree in Business Administration and is a Certified Assistant Project Manager. He has extensive experience in training, profit maximization, business operations, six sigma principles, and building and developing teams. Elique is currently pursuing his Project Management Professional with the PMI.
Join Our Team
Are you looking for an employment opportunity with our Endeavors Unlimited team?
View Job OPENINGS
Custodial Services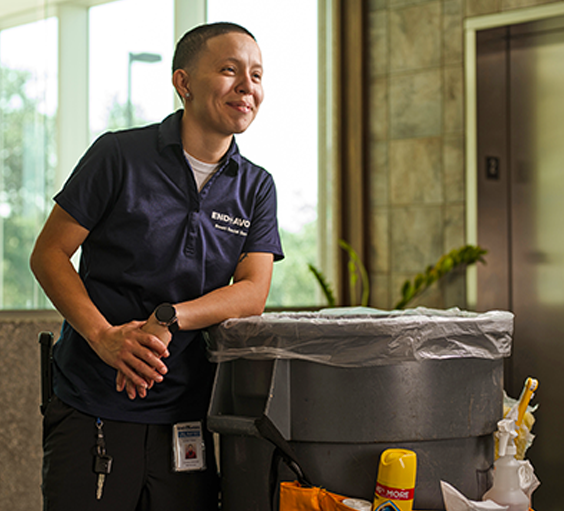 Commercial General Cleaning (Ranging From Basic to Executive Level)
Sanitation Services
Carpet Extraction(Spot cleaning & Periodic Full-service)
Stripping & Waxing
Day Porter Services (One Time Events and Scheduled)
Endeavors Unlimited's Quality Control Program integrates systematic site inspections, ongoing customer feedback and regular staff quality training. A local, highly trained Custodial Supervisor directly oversees all
custodial services to ensure quality and client satisfaction.
COVID-19 Prevention Sanitation Services
(Misting & Fogging)
Protect your employees and your customers with our specialized sanitization services.
Our Non-toxic Solution is: Odorless Colorless Food-safe Versatile (Works on both porous and non-porous surfaces) Endeavors Unlimited's disinfecting services can be used in many places, including schools, daycares, senior care centers, corporate offices, restaurants, fitness centers, religious centers, and automobiles, including emergency response vehicles. retail, and other businesses.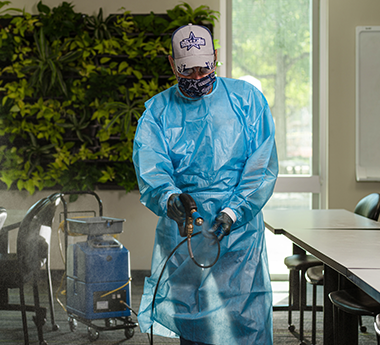 Level 1

Disinfection of all surfaces with virucidal/bactericidal EPA approved disinfectant, using a misting device. Note: Facility must be cleaned and wiped down BEFORE application of mist.

Level 2

Disinfection of all surfaces with virucidal/bactericidal EPA approved disinfectant, using a misting device. Note: Facility must be cleaned and wiped down BEFORE application of mist.

Level 3

Disinfection of all surfaces with virucidal/bactericidal EPA approved disinfectant, using a misting device. Note: Facility must be cleaned and wiped down BEFORE application of mist.
Grounds Maintenance Services
Full Service Exterior Grounds Maintenance
(Mowing, Trimming, Edging and Blowing)
New Mulch Install & Annual Refresh
Seasonal Flower Rotations
Fertilization, Pre & Post Emergent, & Weed
Killer Application
Integrated Pest Management Tree
Care & Removal
Landscape Upgrades
& One Time Landscape
Beautifications
PARTNER WITH US
In order to meet and exceed your organizations landscaping goals and standards, we understand that each property and client is different and will work with you to develop a customized solution that fits YOUR needs. We strive to provide our clients facilities with clean, professional and consistent service day in and day out.
CAGE CODE: 5TZ18
DUNS#: 144605446
TJIN/EIN: 6742618398
561720 – Janitorial Services
561730 – Landscaping Services
624310 – Educational Support Services
Endeavors Unlimited is proud to partner with local, state, and national leaders for persons with disabilities such as:
Endeavors Unlimited
Providing supportive employment training and accommodated employment for adults with disabilities, Endeavors Unlimited provides more than a job- it provides life-changing opportunity. By choosing to donate to Endeavors Unlimited, you're assisting us to continue to train these deserving individuals and then place them in positions that may have otherwise not been available.