An Open Letter to Endeavors Employees: Thank You For Making Us A Top Place To Work

Last Updated: 01 Mar 2023
COMMUNITY SERVICES
echo $minutes. " Minute Read"?>
Our employees voted Endeavors a 2023 Top Workplace! Here's why.
Dear Endeavors Employees,
We have something exciting to share — Endeavors has been awarded the 2023 Top Workplaces USA award! This honor has been bestowed upon us by Energage, whose Top Workplaces program has a 15-year history of surveying more than 20 million employees and recognizing the top organizations across 60 markets for regional Top Workplaces awards.
By sharing your experiences in the survey, YOU ranked our organization not only as a top nonprofit to work at, but a top workplace nationwide.
YOU ranked Endeavors in the Top 4% for compensation in Human and Social Services, the Top 14% for Benefits, the Top 18% for Work-Life Flexibility, and the Top 22% for Meaningful Work.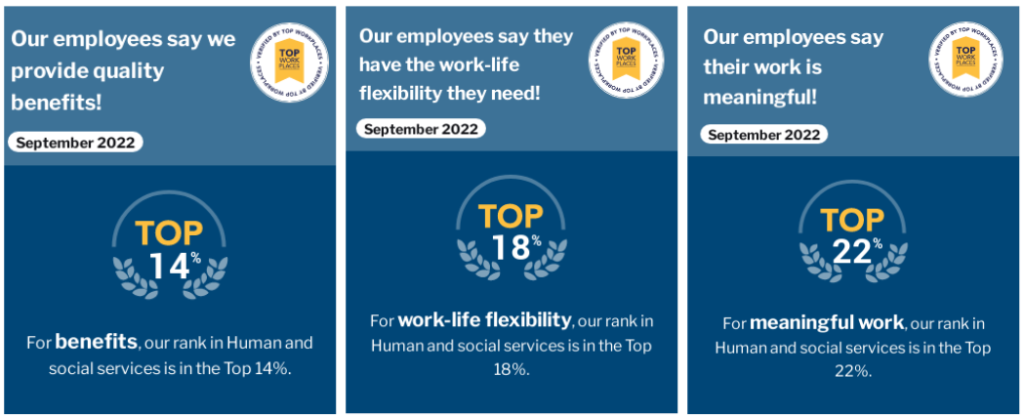 YOU described our organization culture as compassionate, inclusive, committed, supportive, empowering, and visionary.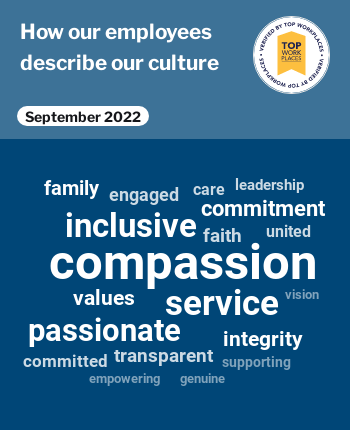 But our organization is merely the sum of our employees, which means that YOU are compassionate, inclusive, committed, supportive, empowering, and visionary.
The impact that we're able to make in the community, the people we are able to help rebuild after hurricanes, homelessness, mental health illness, or grueling journeys across the border…all of that happens because of you. YOU are the heartbeat of our mission.
Here's what YOU (Endeavors employees) have to say about working at Endeavors:
"I work with a team of people who genuinely care about the people we serve and serve with. Our work makes a difference everyday one person at a time."
"I am fully remote with the best team EVER."
"It allows me to 'love my neighbor as myself' and get paid for it!"
"I have the autonomy to grow my team, the department, and the organization in a positive direction, and feel blessed that we help vulnerable humans across states."
"I work with amazing people who are making a profound difference in the world."
"I have flexibility which motivates my work. The work culture here is amazing and I feel valued."
"I love my job because it serves a bigger purpose. I am able to learn and grow within the company, and my supervisor has my best interests in mind."
"I love my job because the work I do impacts the vulnerable Veteran community in a positive way. Clients keep in touch after they are out of the program, which provides great job satisfaction. The staff that I work with directly is hard-working and supportive. My supervisors always have my back and strive to make my life easier."
From those of you working in our Veterans Services program to our support departments, to the folks providing Disaster Relief, Homelessness Prevention, and Migrant Services, your message was clear: You care deeply about the people you serve, and the people you work with.
Thank YOU for everything you do to help people in need, and make Endeavors such a wonderful place to work.
Sincerely,
Endeavors
---
About Endeavors
Endeavors is a longstanding national non-profit that provides an array of programs and services in support of children, families, Veterans, and those struggling with mental illness and other disabilities. Endeavors serves vulnerable people in crisis through innovative personalized services. For more information, please visit endeavors.org.